HealthFit Promotions & Events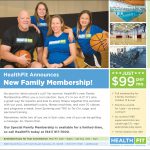 July Promotion
Join HealthFit in the month of July and get 3 massages for $150*
*Offer only valid in July. Fitlinxx points cannot be used with offer.
New members can take advantage of our new Family Membership Plan special, which is only available for a limited time. Sign up now to lock in a no contract, month-to-month membership for three family members (age 13+) for $99 / month.
Open House: Saturday, August 26, 3 – 7 pm
Demos
Squat and Deadlift, 4 – 4:30pm, Gym Floor: Learn how to correctly do two of the most complicated but beneficial lifts with a HealthFit Personal Trainer.
Lunges, 5 – 5:30pm, Gym Floor: Don't let this great exercise get boring! A HealthFit Personal Trainer teaches a variety of different lunges and how correctly target different lower body muscle groups.
Medicine Ball Workout, 6 – 6:30pm, Gym Floor: A HealthFit Personal Trainer demonstrates how to do a total body workout with one single piece of equipment, using proper form and technique.
Special Classes
Karaoke Cycle, 3:30 – 4 pm, Spin Studio: Have a blast while you sing and ride to your favorite songs! Challenge your endurance by keeping a tune as you pedal through this cycle workout. (Singing abilities not required).
Dance Fusion, 3:30 – 4 pm, Group Exercise Studio: Let loose in this high energy dance party! Build up a sweat to a variety of different beats as the instructor shows you moves that burn the calories.
In The Zone, 4:30 -5 pm, Spin Studio: Know how hard you're cycling utilizing Polar Heart Rate Technology with your heart rate zone being projected in front of the class. Participants can see if they're in their right heart rate zone as the colors change from blue (low intensity) to red (high intensity) as class progresses.
Boot Camp, 4:30 – 5 pm, Basketball Court: This class is a self-paced, full-body, circuit conditioning for all levels. Participants work through a list of strength and cardio exercises and class is over when all exercises are completed. Work hard and go home early!
Ripped Ride, 5:15 – 6:15 pm, Spin Studio and Basketball Court: Get ready for a heart-pounding dual workout! Boost in your endurance and stamina as you ride it out in a cycle class for the first half. For the second half, class moves out onto the court to get ripped with a full-body resistance training workout.
Competitions
Basketball: Shoot the ball from 10 locations around the court – the more challenging the shot, the more points you receive! Compete anytime between 3:30 and 6:30pm. You do not need to be present at end to receive prize.
Rowing: After instruction from former rowing coach, Marjorie Knechtel, you're off on a 500- or 1000-meter sprint on the rowing machine! Compete anytime between 3:30 and 6:30pm. You do not need to be present at end to receive prize.
Prizes and Giveaways!
Door prizes and giveaways throughout Open House event
Prizes for all competition winners